If your typing skill is abysmal (like mine was) I suggest you practice on website likehttp://www.berkeleyprep.org/lower/ll…ng%20games.htm. After practicing, I suggest you go to http://www.typingtest.com/ to test your typing skills. If you get over 60 words per minute, I guarantee that you will ace this game!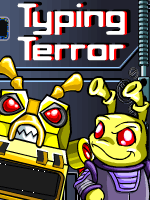 By takanuva509
Minimum score to get 1000 np: 2222
Minimum score to get avatar: 3600
Typing Terror! Possibly the easiest game to get 1000 np for some… and for others, game that adds stress to your daily life. But never fear, you now have a guide to follow!
So! How do you play this aw esome/ful game? Well, like the title suggest, you have to type words that is charging at you. You say, "Oh! Well, that's not very hard! I can write 600 word essay in 30 minutes!" Well, not really. See, the thing is, some words in Typing Terror aren't part of our normal vocabulary, and thus you may have hard time typing them out! Some examples are: Ixi, Kurt, Pyres. Fortunately, there are no numbers to type. (Which is good, because I can't type numbers as quickly as I can type words.)
There are three types of robot that you will encounter in the game:
This is the 

Yellow Clockwork Grundo

. It is the most common robot you will encounter. It gives you 5 point.
 This is the

 Red Clockwork Grundo

. It is the next common robot you will encounter. I personally face may be 3~4 per stages. It gives you 20 points. These guys are bit trickier because the words are upside down.

 This is the rarest grundo of them all: 

Purple Clockwork Grundo

. You will be lucky to find one of these broken toys. They give you 100 points! Although this guy is worth 20 more times the Yellow Clockwork Grundo, there is no difference between them. If you are aiming for trophies, you MUST get these guys! (NOTE: There are also red version of this guy early in the game. There are no difference between the two, save the colour.)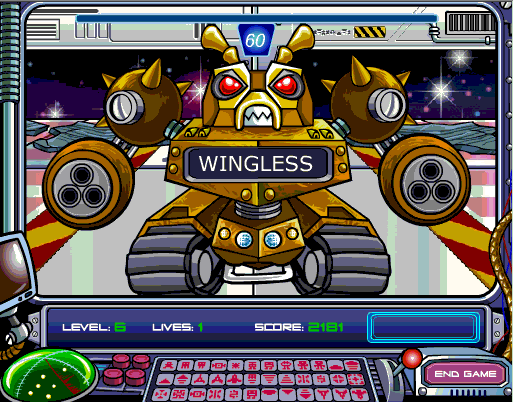 So you defeated all the little grundos, eh? Well, it's the big bad boss time! It is the 

Giant Bronze Clockwork Grundo

! Defeating this guy will give you a grand total of 500 points!
The game is divided into 6 levels: first 5 stages are for clearing, while the last stage is boss stage. 
The first stage is fairly simple: destroy 12 grundos before they destroy you. All the words will be three letters and the speed which they come to you are extremely slow. Easy-peasy.
The second stage is just a tad-bit harder: destroy 14 grundos to move on. All words will be four letters and the speed which they come at you are still pretty slow. 
The third stage is normal. Most people will probably get to this stage without too much problem. All the words will be five letters and you have to destroy 16 grundos. 
The fourth stage is pretty difficult. When I sucked at typing, I died here quite quickly. You have to destroy 18 grundos with six letters to move on. Be careful! Grundos are quite quick!
The fifth stage is for experts and who can blaze through their keyboards. You have to destroy 20 grundos with seven letters to move on. They come to you pretty quickly, and bunched up, so good luck!
The last stage is actually pretty easy (I think). You have to type 25 – 8 letter -words. The only thing that might make this difficult is the time limit: 60 seconds.
After clearing each stage, you will be given bonus points! If you made no mistakes in the level, you will get 200 points (100%). However, for every mistake you make, you lose 1%, which is equivalent to 2 points in the game.
An exception is on the last stage, where you get 300 points if you made no mistake. You also get additional 100 points for every life you have. (Maximum of 300 points as well.)
Now! Below, I listed words that come out in Typing Terror. You can practice typing them to pwn at the game!
Level 1 – 3 Letter Words
AYE
BYE
CUT
EYE
FYI
GYP
HUT
IXI
JUT
KOI
LYE
MUM
NUT
OWN
PUT
QUO
RYE
SUN
TWO
UZI
VOW
WRY
YOU
ZOO
Level 2 – 4 letter words
AYES
BYTE
CUTS
DYES
EYES
FYRE
GYRO
HYPE
IXIS
JUTE
KURT
LYRE
MYTH
NUTS
OXEN
PYRE
QUIZ
RUTS
SWIM
TZAR
USUL
VOWS
WURM
XRAY
YURT
ZOOM
Level 3 – 5 letter words
AZURE
BYWAY
CZARS
DYING
EYRIE
FYORA
GYROS
HYPOS
IZAAK
JUROR
KYRII
LYSES
MYTHS
NYMPH
OZONE
PYRES
QUOTH
RYSHU
SYRUP
TYPOS
UVULA
VYSSA
WYNER
XRAYS
YURTS
ZOOMS
Level 4 – 6 letter words
AZURES
BYWORK
CYSTIC
DYNAMO
EYRIES
FUZZLE
GYRING
HYPING
ITSELF
JUTTED
KYRIIS
LYSINE
MYTHOS
OYSTER
PYTHON
QUOTES
RUTTED
SYSTEM
UZARRO
VYSSAS
WUZZLE
XANTAN
YURBLE
ZYGOTE
Level 5 – 7 letter words
AZALEAS
CZARIST
DYNASTY
EYEWINK
FUZZLES
GYRATOR
HYPHENS
IVORIES
JUTTING
KYRUGGI
LYSENKO
MYSTIFY
NUZZLES
OYSTERS
PYRAMID
QUOTING
RYSHIKI
SZILARD
TZARIST
UTTERLY
VULTURE
XEROXED
YURBLES
ZYROLON
Level 6 – Boss/8 letter words
AWARDING
BYSTREET
CZERNIAK
DYSLEXIC
EYEWINKS
FUZZITUS
GYROSTAT
HYSTERIC
IZVESTIA
JUVENILE
KUMQUATS
LYRICIST
MYTHICAL
NUZZLING
OXYMORON
PYRAMIDS
QUOTIENT
RUTTIEST
SYZYGIES
TYRANNIA
UTTERING
VULTURES
WUTHERED
YUMMIEST
ZUMAGORN